THE 2020 LA MAMA LOVE GLOBAL GALA
Saturday, November 7, 2020 at 11AM (EST/USA) 
The 202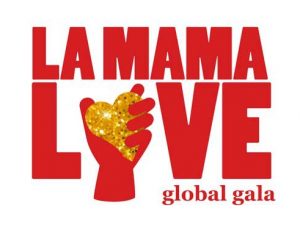 0 La MaMa Love Global Gala brings artists together from around the world to celebrate the spirit and community that have fueled our work for the past 58 years. This year's virtual gala marks the first time that our global community will be able to join from wherever they are on November 7, Ellen Stewart's birthday.
Love is what La MaMa was founded on: love for creativity, love for humanity, and love for the earth. ­Together, we will activate the intersectional, cross-cultural love that La MaMa's global community shares through art and imagine a world that is more open and loving. Our 2020 Gala honors all of YOU who keep the love going
Honorary Chairs: Amy Sedaris and Philip Glass
Honored Guest: Abigail E. Disney, Filmmaker and Activist
Hosted by: Bill Pullman and Tamara Hurwitz Pullman

Playwrights in Nairobi will be with audience members in Krakow Actors in Seoul will join with theatre-lovers in Sao Paolo in our virtual space to celebrate our global history of revolution and social change. Love is what La MaMa was founded on: love for creativity, love for humanity, and love for the earth. ­
Together, we will activate the intersectional, cross-cultural love that La MaMa's global community shares through art, and imagine a world that is more open and loving.
Performances by Philip Glass, Bobbi Jene Smith, Joshua William Gelb + Katie Rose McLaughlin, Aroji Otieno and more!
Frank Carucci, President                        Jeff Haley
Joan Rose, Vice President                      Matthew Hall
Donald Capoccia, Treasurer                   Jill Hanekamp
Richard Pinner, Secretary                     Steven B. Malkenson
Byung Koo Ahn                                          Wynn J. Salisch
Eugene Chai                                                Luis A. Ubiñas
Jane Friedman                                          Scott Wittman
Mary Fulham                                             Mia Yoo
Timothy W. Fulham                                Joel Zwick
Lenerson Polonini (Brazil)
Marisa Buffone (Canada)
Annette Mikkelsen (Denmark)
NC Heikin (France)
Sofia Tsekoura (Greece)
M.A. Whiteside and Arno Geels (The Netherlands)
Saskia Mees and Aus Greidanus (The Netherlands)
Poorna Swami (India)
John Scott (Ireland)
Dario D'Ambrosi (Italy)
Filippo De Capitani (Italy)
Adriana Garbagnati (Italy)
Valeria Orani (Italy)
Mitsunari Sakamoto (Japan)
Mitsuko Hisao (Japan)
Makoto Inoue (Japan)
Tatsumi Hatano (Japan)
Aroji Otieno (Kenya)
Sung Yeon Park (Korea)
Dajung Shin (Korea)
Marina Arsenijevic and Donald Bronn
Winsome Brown and Claude Arpels, Jr.
Jane Comfort
John Fulham
Margaret Fulham
Robert Goldberg/Yorke Construction Corporation
Cheryl Henson
Margaret Parker 
Michael Pressel/RPO Inc.
Mary Parker and Damon Smith
Estelle Parsons and Peter Zimroth
Irene Ramp 
Gus Solomons Jr.
Arlene Sorkin
Brenda Walker and Peter Swords
RESIDENT ARTISTS/CULTURAL AMBASSADORS
Murielle Borst-Tarrant (Kuna / Rappahannock Nations)
Yoshiko Chuma
Rebekah Crisanta de Yberra
Shauna Davis
Jerome Ellis
Charlotte Lily Gaspard
Joshua William Gelb
John Maria Gutierrez
Justin Hicks
Paul Lazar
Tom Lee
Loco7 Dance Puppet Theatre

Katie Rose McLaughlin
Leah Ogawa
Tarish Pipkins (Jeghetto)
Stacey Karen Robinson
Bobbi Jene Smith
Split Britches
Timothy White Eagle

MEET OUR GUESTS
Abigail E. Disney advocates for real changes to the way capitalism operates in today's world. She has worked for thirty years with programs for low-income families, women's rights, and global poverty. She is an Emmy-Winning Documentary Filmmaker and co-founder of Fork Films, a nonfiction media production company, which produces the weekly podcast "All Ears," where host Abigail Disney interviews bold, solutions-oriented thinkers from the front lines of America's urgent inequality and race crises. She is also the Chair and Co-Founder of Level Forward, a new breed storytelling company focused on systemic change through creative excellence, balancing financial and social returns. She also created the nonprofit Peace is Loud, which uses storytelling to advance social movements and the Daphne Foundation, which supports organizations working for a more equitable, fair and peaceful New York City.
Philip Glass: Born in Baltimore, Maryland, Philip Glass is a graduate of the University of Chicago and the Juilliard School. In the early 1960s, Glass spent two years of intensive study in Paris with Nadia Boulanger and, while there, earned money by transcribing Ravi Shankar's Indian music into Western notation. By 1974, Glass had a number of innovative projects creating a large collection of new music for The Philip Glass Ensemble and for the Mabou Mines Theater Company. This period culminated in Music in Twelve Parts and the landmark opera Einstein on the Beach, for which he collaborated with Robert Wilson. Since Einstein, Glass has expanded his repertoire to include music for opera, dance, theater, chamber ensemble, orchestra and film. His scores have received Academy Award nominations (Kundun, The Hours, Notes on a Scandal) and a Golden Globe (The Truman Show). In the past few years several new works were unveiled including an opera on the death of Walt Disney, The Perfect American (co-commissioned by Teatro Real, Madrid and the English National Opera), a new touring production of Einstein, the publication of Glass's memoir, Words Without Music, by Liveright Books, and the premiere of the revised version of Glass' opera Appomattox, in collaboration with librettist Christopher Hampton, by the Washington National Opera in November 2015. Glass celebrated his 80th birthday on January 31, 2017 with the world premiere of Symphony No. 11 at Carnegie Hall. His 80th birthday season featured programming around the globe, including the U.S. premieres of operas The Trial and The Perfect American, and world premieres of several new works, including Piano Concerto No. 3 and String Quartet No. 8. In 2015, Glass received the U.S. National Medal of Arts and the 11th Glenn Gould Prize. He was honored with the Richard and Barbara Debs Composer's Chair from Carnegie Hall for the 2017-2018 season. Glass received the 41st Kennedy Center Honors in December 2018. In January 2019 the Los Angeles Philharmonic presented the world premiere of Glass' Symphony No. 12, based on David Bowie's album Lodger and a completion of three symphonies based on Bowie's Berlin Trilogy. Glass continues to perform solo piano and chamber music evenings with world renowned musicians, and regularly appears with the Philip Glass Ensemble.
Amy Sedaris is an American actress, author, screenwriter and comedian. She is known for playing Jerri Blank in the hit Comedy Central series Strangers with Candy, and voicing Princess Carolyn on the Netflix animated series BoJack Horseman. Her Emmy-nominated show At Home with Amy Sedaris is in its third season on truTV. Sedaris has written a number of books, including I Like You: Hospitality Under the Influence, Wigfieldand Simple Times: Crafts for Poor People. She has also co-authored a number of plays with her brother David Sedaris under the name "The Talent Family." Shows by The Talent Family include Stump the Host, Stitches, The Little Frieda Mysteries, and One Woman Shoe, all of which premiered at La MaMa Experimental Theatre Club in the 1990s. Sedaris has also appeared in shows such as Monk, Sex in the City, Just Shoot Me!, and My Name Is Earl. Her film work includes Elf, School of Rock, Maid in Manhattan, and Shrek the Third.
Bold Theatre Kenya is a performance-art based initiative that promotes the preservation and development of Kenyan art as a tool of self-expression within our communities. We are involved in advocacy for social justice, education, awareness, and intercultural collaboration. We endeavor to create artistic experiences that synthesize our traditional and modern culture for the development of a unique Kenyan flavor. This allows citizens to build a connection to their history that perpetuates confidence and agency. Our work targets the local and international audience, providing exposure to authentic Kenyan culture while inspiring and challenging the audience to see the world from a different perspective. We also provide individual artists with training and apprenticeship that supports continuity and consistency in artistic development. In addition, we develop artistic tools that support community groups to solve local problems. This year our projects have included: The Bold Memoir Show, Bold Studio Workshops and the Solo Challenge (new actors compete in monologue, spoken word and storytelling categories). Contact us at boldtheatreke@gmail.com.
Murielle Borst-Tarrant (Kuna/ Rappahannock Nations) is an author, playwright, director, producer, cultural artist, educator, and human rights activist. Murielle began working as an artist early in her life with Spiderwoman Theatre. After attending Long Island University, she began combining Native American myth and creation stories to help compose a subgenre of literature referred to as Indigenous Fantasy. She is the author of the book series "The Star Medicine" and short stories published by Miami University Press. She is the Artistic Director of Safe Harbor Indigenous Collective. She has recently produced, written and directed "Don't Feed the Indians- A Divine Comedy Pageant!" at La MaMa. She works on the deconstructing the pedagogy of the arts within Native communities in the NYC education system. Nominated for the Rockefeller grant in 2001, she won a Native Heart Award. She served as the Special Assistant to the North American Regional representative to the United Nations Permanent Forum on Indigenous Issues. Global Indigenous Woman's Caucus Chair (North America) in 2013 to May of 2014. She has spoken at the Indigenous Women's Symposium at Trent University, at the International Conference at the Muthesius Academy of Art in Kiel Germany, and the Norwegian Theater Academy.
Shortly after the coronavirus pandemic closed all theaters in mid-March, Joshua William Gelb transformed a 2′ x 4′ x 8' closet inside his East Village apartment into a white-box theater. Along with Katie Rose McLaughlin, they set out to understand how artists can adapt to the digital form without sacrificing the integrity of the live event, as well as navigating how we can continue to responsibly collaborate while social distancing. Gelb's work has been presented by Abron's Art Center, Ars Nova, LMCC Process Space, New Ohio, Joe's Pub, Polyphone Festival, and Target Margin is an associate artist with Sinking Ship, and teaches Theater Collaboration at Cooper Union. McLaughlin is the Associate Choreographer of Hadestown on Broadway, has been an artist-in-residence LMCC's Process Space, Dance Lab New York, Kaatsbaan International Dance Center and her work has been presented by The Chocolate Factory, the Invisible Dog Art Center, HERE Arts Center, newMoves Contemporary Dance Festival, and the International Festival of Art & Ideas.
Tamara Hurwitz Pullman has been in the dance field for 30 plus years, as a performer, educator, choreographer, curator, community engager, dance dramaturge, and screendance–maker. Recent work includes The Passing Project: a multidisciplinary performance piece investigating themes of passing/dying, commissioned by The Chandler Center for The Performing Arts; The Good Water: a dance film centering on one woman's struggle to protect the earth's most precious resource; The Wild Hunt: an original play with songs by Bill Pullman, developed by Denver's Visionbox Studios and NY Stage and Film; 9th Rib: an intergenerational, site-specific dance/theater/music collaboration with choreographer Keith Thompson; and Healing Wars: a 6-time Helen Hayes Award–nominated dance production originated with the National Civil War Project. Hurwitz Pullman has performed and collaborated with Jose Limon Dance Company, Rosanna Gamson World/Wide, The Yard, Ann Vachon/Dance Conduit, Pacific Dance Ensemble (Hae Kyung Lee, Stephanie Gilliland), and others. She has been a choreographer, curator, educator, and dramaturg at the Los Angeles Dance Resource Center's Home Grown, The Latino Theater Company of Los Angeles, the Los Angeles Theater Center, and many other settings. Community engagement with people of all ages and abilities is an area of special interest.
Tom Lee is a director, designer and puppet artist. He began his career at New York's La MaMa Experimental Theater. His original puppet theater work includes Shank's Mare (La MaMa, international tours), Hoplite Diary (St. Ann's, La MaMa), Tomte (Chicago International Puppet Theater Festival), Odysseus and Ajax (La MaMa) and Ko'olau (La MaMa/Hawai'i tour). He has performed as a puppeteer in WarHorse (Broadway), Madama Butterfly (Metropolitan Opera), Le Grand Macabre (NY Philharmonic), in addition to the work of Dan Hurlin, Basil Twist and Lee Breuer. Tom Lee is co-director of the Chicago Puppet Studio with Blair Thomas which recently designed The Steadfast Tin Soldier for Mary Zimmerman at Lookingglass Theater. Find out more at www.tomleeprojects.com
Bill Pullman was born in Hornell, New York. He received his BA in Theatre from the State University of New York College at Oneonta, and his MFA in Theatre/Directing and an honorary PhD from University of Massachusetts at Amherst. Upon moving to New York City, Pullman worked with Kathy Bates in the acclaimed stage production of Curse of the Starving Class. However, it was his work in three strikingly diverse films that brought him broader attention: Ruthless People with Danny DeVito and Bette Midler, the Mel Brooks hit Spaceballs and the Oscar-nominated The Accidental Tourist. Pullman made his Broadway debut in 2002, creating the role of Martin in Edward Albee's Tony Award-winning The Goat, or Who is Sylvia?,earning Drama Desk and Outer Critics Circle Award nominations. Other Broadway credits include David Mamet's Oleanna (2009) with Julia Stiles, and The Other Place with Laurie Metcalf (2013). Focused more on neighborhoods than show business-based charities and societies, Pullman has defined himself by his work with his local communities. He works to bridge communities in Los Angeles through his board work with Cornerstone Theater, and is an MS Society Ambassador. Pullman continues to work with his neighbors who formed "Concerned Citizens Montana," a group that advocates for the national need for a smart grid for energy transmission. He also supports local health services, particularly The Pullman Women's Health and Birthing Center (St. James Hospital, Hornell, NY). Based in Los Angeles, New York City, and Western Montana, Pullman is married to dancer Tamara Hurwitz Pullman, and they have three children: daughter singer/songwriter Maesa Rae and multi-talented sons Jack and Lewis Pullman, who is now also an actor.
Bobbi Jene Smith is an alumnus of The Julliard School, North Carolina School of the Arts, and the Royal Winnipeg Ballet School. She is a founding member of the American Modern Opera Company (AMOC), and a former member of Batsheva Dance Company under the artistic direction of Ohad Naharin. Her choreography has been presented by Batsheva Dance Company, La MaMa, Martha Graham Dance Company, PS122 COIL Festival, A.R.T., The Israel Museum, UNC Chapel Hill, and CORPUS of The Royal Danish Ballet, among others. Film work includes the choreography for Annihilation directed by Alex Garland, and choreographing and starring in Boaz Yakin's Aviva. She is the subject of Bobbi Jene, winner of the awards for Best Documentary, Best Cinematography, and Best Editing at the 2017 Tribeca Film Festival. She is the recipient of The Harkness Promise Award and was the Martha Duffy Resident Artist at Baryshnikov Art Center in 2019. She is part-time faculty at The Julliard School and is a guest teacher at NYU and UArts.
Split Britches, founded in 1980, is the feminist performance duo of Peggy Shaw and Lois Weaver. Weaver is an artist, activist and Professor of Contemporary Performance at Queen Mary University of London. She is a 2014 Guggenheim Fellow and a Wellcome Trust Engaging Science Fellow for 2016-19. Shaw is a performer, writer, producer and teacher of writing and performance. She is a 2019 Guggenheim Fellow, a 2016 USA Artist Fellow, and was the 2014 recipient of the Doris Duke Artist Award. The duo's shows at La MaMa include Unexploded Ordnances (UXO) (2018), Ruff (2014), Miss America (2008), Dress Suits to Hire (2005), Miss Risque (2001), Salad of the Bad Café (2000), Faith and Dancing (1997), Lust and Comfort (1995), You're Just Like My Father (1993), and Belle Reprieve (1990).