12 e 13 luglio 2017  CANTIERE OBERDAN  h. 18.00 e   h. 22.00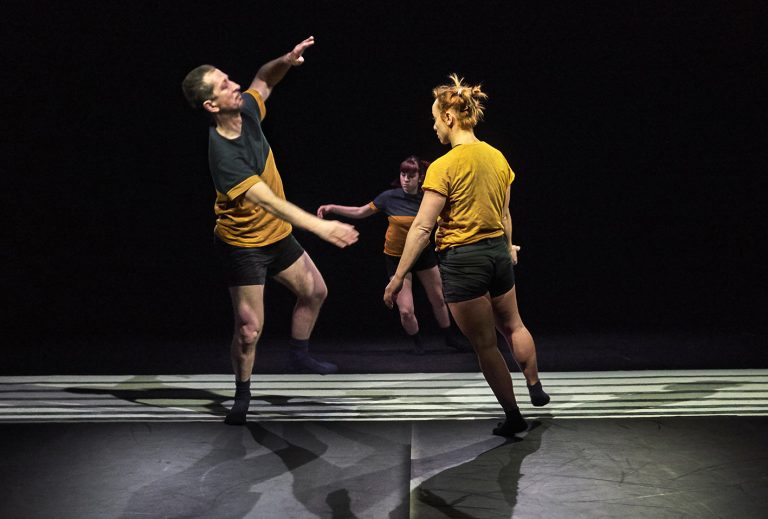 compagnia: gruppo nanou
coreografia: Marco Valerio Amico, Rhuena Bracci
con: Sissj Bassani, Rhuena Bracci, Marco Maretti
suono: Roberto Rettura
assistenti alla coreografia: Marta Bellu, Rachele Monti
prodotto da: E / gruppo nanou
co-prodotto da: L'Arboreto Teatro Dimora di Mondaino, Cie Twain
con il sostegno di: La MaMa Umbria International, Cantieri
con il contributo di: MIBACT, Regione Emilia-Romagna assessorato alla cultura
"Senza titolo per uno sconosciuto" è un lavoro sul corpo che innesca uno spaesamento (molecolare) dello spazio. Senza uno stato di perdita del corpo, senza lo smarrimento dato per assunto, l'innesco non è possibile. Il corpo si occupa dello spazio mantenendolo perennemente in moto, un moto deterritorializzato.
La relazione tra i corpi è per "onde gravitazionali": il corpo si assume lo spazio in atto per afferrarlo e restituirlo. Una continua azione transitiva / centrifuga che raccoglie l'esistente e lo rimette in circolo fuori da sé. Allora il corpo non trova più arresti, definisce il "punto" come "spirale", la sospensione del corpo è una riduzione del volume dell'azione, le linee sono oscillazioni vibratorie, il tempo si fa circolare, si perde la necessità di inizio e di fine.
———————-
Untitled for the unknown
company: gruppo nanou
choreography: Marco Valerio Amico, Rhuena Bracci
with: Sissj Bassani, Rhuena Bracci, Marco Maretti
sound: Roberto Rettura
choreography assistants: Marta Bellu, Rachele Montisproduced by: E / gruppo nanou
co-produced by:L'Arboreto Teatro Dimora di Mondaino, Cie Twain
supported by: La MaMa Umbria International, Cantieri
with the contribution of: MIBACT, Regione Emilia-Romagna assessorato alla cultura
"Untitled for the unknown" is a work on the body which triggers a (molecular) disorientation of space. Without a state of loss of the body, without the disorientation given as an assumption, the trigger is not possible. The body deals with the space keeping it perpetually in motion, a deterritorialized motion.
The relationship among the bodies is by means of "gravitational waves": the body assumes the ongoing space in order to grasp it and return it. An unceasing transitive / centrifugal action which collects the existent and puts it back into circulation outside of itself. Then the body finds no hindrance, it defines the "point" as a "spiral", the suspension of the body is a reduction of volume of the action, the lines are vibratory oscillations, time becomes circular, the beginning and the end are no longer necessary.