CANTIERE OBERDAN   – Sabato 29 Giugno h. 22.00
                                          – Domenica 30 Giugno h. 17.00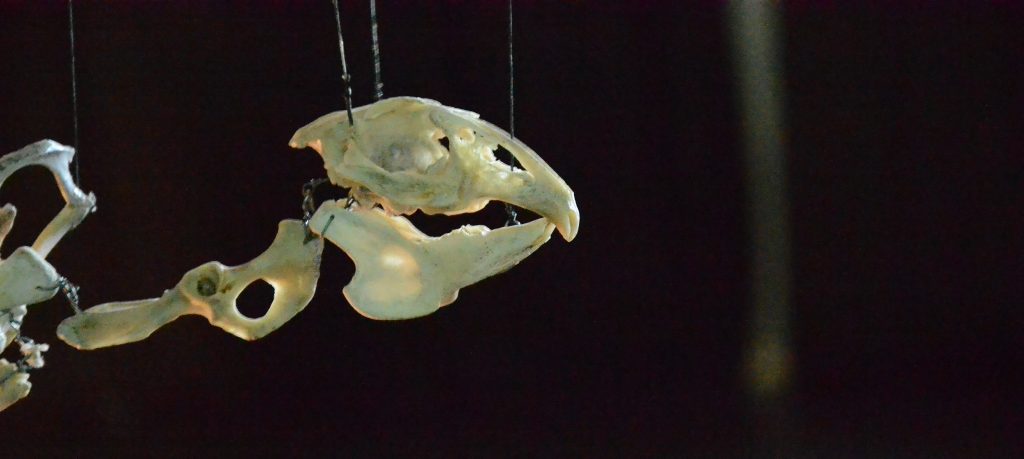 Spettacolo finalistaBiennale Teatro College – Registi under 30 2018
Silvia Rigon Concept, regia, drammaturgia
Lucia Menegazzo Regia, scenografia, ideazione e realizzazione figure
Barbara Mattavelli Attrice, performer
Federica Furlani Sound design, musicista, performer
Christina Lidegaard Producer
Con il sostegno di RAMI – Residenza Artistica Multidisciplinare Ilinxarium e di Centro di Residenza della Toscana (Armunia Castiglioncello – CapoTrave/Kilowatt Sansepolcro)
Raccontare storie può ancora salvare una vita? Una donna che racconta storie, può finalmente condividere anche la propria?
Un re, dopo essere stato tradito dalla regina, decide di sposare una donna ogni sera per ucciderla il mattino seguente.
Shahrazàd, si offre come moglie. Insieme alla sorella Dunyazàd escogita un piano per sopravvivere al sultano: prima di addormentarsi, Dunyazàd chiede a Shahrazàd di raccontarle un'ultima storia che non deve finire prima dell'alba; se il sovrano desidera conoscere la fine del racconto dovrà accordarle un nuovo giorno di vita.
Shahrazàd, raccontando storie meravigliose, mette ne alla catena di esecuzioni, questa è la storia cornice de Le mille e una notte.
Il progetto è ambientato la notte prima del matrimonio.
Siamo cinque donne e proviamo a raccontare una storia, sempre la stessa, la nostra, quella di Shahrazàd.
Interroghiamo l'oggi per scoprire l'inaspettato nascosto nel quotidiano, riscoprendo il sentimento della meraviglia come principio vitale.
Lavoriamo alla creazione di un personaggio che si è sempre nascosto dietro alle sue parole.
Attraverso i nostri personaggi portiamo alla luce la complessità del femminile, dall'infanzia alla vecchiaia mettendoci in gioco in prima persona.
Per raggiungere questo obiettivo attraversiamo molti linguaggi diversi: partiamo dalla letteratura, utilizziamo strumenti dell'antropologia, giochiamo a mischiare elementi del teatro di figura (burattini, ombre, pupazzi portati, marionette…) e sperimentiamo nuovi mondi sonori.
Le meraviglie dei racconti de Le mille e una notte si materializzano in immagini fuori dal comune costruite da oggetti fantastici in una nostra personale Wunderkammer.
I gabinetti delle meraviglie del '700 erano collezioni di oggetti che raccoglievano la ricchezza della natura e delle attività umane; mondi esotici dove ci si interrogava sul proprio posto nell'universo, perdendo sé stessi nella contemplazione, aprendo le porte all'utopia e al paradosso enigmatico. Questa è l'emozione che desideriamo suscitare nel nostro spettatore.
Note di regia
Lo spettacolo esplora il rapporto con la morte. Shahrazàd, immersa nel suo studio, ha paura, vorrebbe trovare un modo per evitare di essere il prossimo anello della catena di uccisioni. Insieme alla sorella ripercorre la storia che ha scatenato la sequenza di morte in uno spettacolo che fonde musica dal vivo, ombre, pupazzi, marionette e parole de "Le mille e una notte". In scena le sorelle animano con la musica un uomo/pupazzo per sperimentare il rapporto con il maschile; perdono il controllo e sono costrette ad ucciderlo. Come in uno studio anatomico, le ossa circondano la protagonista, rimandano alla ricerca delle proprie origini e della conoscenza dell'uomo. Le loro ombre rimandano a un mondo trasfigurato che si contrappone alla realtà. Ossa di animali compongono una marionetta, una creatura magica che simboleggia il ricordo e l'eredità che Shahrazàd lascerà alla sorella.
Il pubblico è accompagnato in sala da un'installazione sonora nel foyer in cui il pubblico ascolta voci di donne in varie lingue. Infatti questo spettacolo parte da varie domande che ci siamo poste:
Quando abbiamo preso una decisione pensando di non avere altra scelta?
Cos'è successo quando abbiamo litigato per una nostra scelta?
Quando siamo violente?
Cosa succede quando ci arrabbiamo?
Quando attraverso la rabbia abbiamo perso il controllo?
Abbiamo avuto il desiderio di uccidere qualcuno?
Come realizzare l'omicidio?
Per aiutarci abbiamo chiesto di rispondere a nostre amiche provenienti da vari paesi del mondo, la richiesta era di raccontarsi attraverso la propria lingua madre, come espressione di un momento privato.
La loro voce si interseca con le nostre riproponendo il rapporto tra singolare, duale e plurale presente nella lingua araba e immerge il pubblico in un mondo femminile e conturbante.
——————–
Can telling stories still save a life? Can a woman telling stories finally share her own?
A king, whose queen had betrayed him, takes a new wife every night and kills her the next morning. Soon worthy women are hard to find, so Shahrazàd, proposes herself for the next marriage despite protest from her sister, Dunyazàd. Determined to survive, the two sisters devise a plan: Dunyazàd asks her sister to tell the king a story before going to sleep and to make sure that the story does not end before sunrise, if the king wants to know the end of the story, he should let Shahrazàd live for one more day. With her wonderful stories, Shahrazàd breaks the chain of executions.
The project is set in the night before the wedding of Shahrazàd.
We are five women trying to tell a story, always the same story, our story, the story of Shahrazàd. We question today to discover the unexpected in everyday, rediscovering the feeling of wonder as an essential principle. We work with the creation of a character, who has always hidden herself behind her words.
Through our characters we emphasise the complexity of the feminine, from childhood to old age, using ourselves and our experiences firsthand.
We use multiple languages to accomplish this goal: departing from literature, we apply anthropological methods, we play with a mixture of elements from puppetry (hand puppets, marionettes, shadows, body puppets, etc.) and we experiment new soundscapes.
We materialise the wonders of the "Arabian Nights" in extraordinary images created by fantastic objects in our personal Wunderkammer.
The cabinets of curiosities from the 1700th century were collections of objects that exemplified the richness of nature and of human activity: an exotic world where you wondered about your role in the universe, lost yourself in contemplation, and the door to utopia and the enigmatic paradox opened. This is the emotion we want to provoke in our audiences.
Director's note
An examination of the relationship with death. Sitting in her study, Shahrazàd is immersed in her thoughts: she is scared. She doesn't want to be the next ring in the chain of executions. Together with her sister, she recounts the story that has set off the cycle of death in a play that consolidates live music, shadows, puppets, marionettes and the words of the "Arabian Nights". With music, the two sisters animate a man(puppet) to examine the relationship with the masculine: they lose control and are forced to kill him. Resembling an anatomical study, bones surround the protagonist, referring to the search of origins and the knowledge of man. Their shadows transfer us into a transfigured world that opposes reality. Bones, from animals we have eaten and processed, form a marionette; a magical creature symbolising the memory and legacy that Shahrazàd will pass on to her sister.
In the foyer, the audience is accompanied by a sound installation with the voices of women.
The play is based on various questions that we have posed ourselves:
When have we made a decision thinking we didn't have a choice?
What has happened when we have fought about our decisions?
When are we violent?
What happens when we get angry?
When have we lost the control due to anger?
Did we ever have the desire to kill someone
How to commit a murder?
We have asked women from all over the world to talk about these private moments in their mother tongue.
Their voices are interwoven with our own reproducing the relationship between the singular, dual and plural present in the Arabian language, immersing the audience in a feminine and perturbing world.