La MaMa Umbria Live Streaming
Performance

U35
Rassegna di compagnie italiane under 35 tra danza, teatro e nuovi media
Showcase of Italian companies under 35, between dance, theatre and new media
Cantiere Oberdan, Spoleto 4-6 Marzo/March, 2016 
Performance Italia U35 presenta alcune delle più interessanti giovani realtà del teatro e della danza italiana, con la prospettiva di promuoverle in un contesto internazionale, attraverso la trasmissione dal vivo degli spettacoli in streaming. Una rassegna che si ripeterà ogni anno rivolgendosi ad operatori, programmatori, professionisti della danza e teatro, oltre che pubblico interessato a scoprire il lavoro di nuove compagnie italiane emergenti.
Performance Italia U35 presents some of the most interesting young theatre and dance companies in Italy, with the perspective of promoting them internationally, through the live streaming of the performances. A showcase that will be repeated every year, targeting theatre and dance operators, programmers, artists and the general public interested in discovering the newest creation of emerging Italian companies.      
Free Live online broadcasting
Tutte le performance verrano trasmesse dal vivo via streaming su: / All performances will be live streamed from: lamamaumbria.org, lamama.org, howlround.com, anothertv.net and youtube.
Programma
/ Program
4 Marzo/March @ 21.30 (CET, Central European time)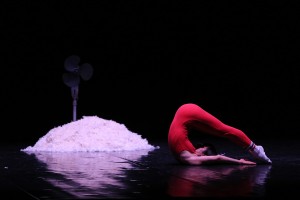 Collettivo Cinetico
10miniballetti
regia, coreografia, danza/concept, choreography, dance: Francesca Pennini
drammaturgia e disegno luci/dramaturgy, light design: Angelo Pedroni, Francesca Pennini
musica/music: J.S. Bach, B. Britten, Cher, G. Frescobaldi, G. Ligeti, H. Purcell, F. Romitelli, J. Strauss. assistenza organizzativa/assistance: Carmine Parise
co-produzione/co-production: Le Vie dei Festival, CollettivO CineticO
residenza stabile/resident company: Teatro Comunale di Ferrara
Un'antologia di danze in bilico tra geometria e turbinio dove l'elemento aereo é paradigma di riflessione sui confini del controllo.
Correnti e bufere, ventilatori e droni, uccelli e grand-jeté diventano allegorie sul legame tra coreografia e danza in un'indagine che rimbalza tra la ripetibilità del gesto e l'improvvisazione, tra la scrittura e l'interpretazione.
Tra contorsioni e sforzi asfittici si innesca uno scambio respiratorio che mescola i volumi tra corpo e spazio, tra scena e pubblico in una geografia mobile, sospesa e decisa, fluttuante e depositata.
An anthology of dances balancing between geometry and swirl where the aerial element is the paradigm for a reflection on the boundaries of control.
Currents and storms, air fans and drones, birds and gran-jets become allegories of the relationship between choreography and dance in an investigation that bounces from the repetition to improvisation, from writing to interpretation. Among contortions and asphyxiating efforts it is triggered a respiratory exchange that mixes the volumes between body and space, audience and stage in a suspended and floating geography. 
5 Marzo/March @ 21.30 (CET, Central European time)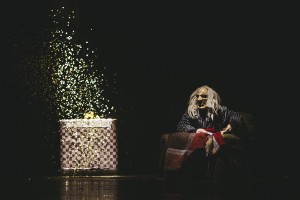 Dispensa Barzotti
Homologia
Segnalazione speciale/special nomination: Premio Scenario 2015
di/by: Rocco Manfredi, Riccardo Reina, Alessandra Ventrella
con/with: Rocco Manfredi e Riccardo Reina
regia/direction: Alessandra Ventrella
ideazione luci/light design: Emiliano Curà
musiche ed ambienti sonori/music and sound Dario Andreoli
Un eterno silenzio scandito dall'abitudine. Un anziano, solo, immerso nel vuoto, in perenne dormiveglia
Qualcosa piomba giù dalla soffitta e risveglia questo corpo intorpidito.
Benvenuti a Homologia.
Homologia è allo stesso tempo «studio dell'uomo» e  «studio di ciò che si ripete identico».
Homologia è una visione telescopica che procede dall'uomo in direzione dell'uomo tentandone una radiografia dettagliata.
Una grande illusione.
Una festa impossibile e centinaia di tentativi falliti.
An eternal silence punctuated by habit. An old man, alone, in the vacuum, in constant drowsiness.
Something comes down from the attic and awakens this numb body.
Welcome to Homologia.
Homologia is both a «studio of man» and a «studio of what is identical».
A telescopic vision applied to human in the effort to produce careful analysis.
A big illusion.
An impossible birthday party animated by hundreds of abortive attempts.
6 Marzo @ 17.30 (CET, Central European time)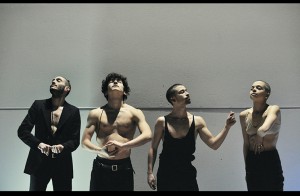 INC InNprogressCollective  
toPRAY
coreografia/choraography: Afshin Varjavandi
danzatori/dancers: Luca Calderini Mattia Maiotti Jenny Mattaioli Elia Pangaro
disegno sonoro/sound design: Angelo Benedetti
disegno luci/light design: Fabio Galeotti
Progetto In residenza: La MaMa Umbria International 
Esiste un momento a partire dal quale si impara a guardare dentro sé stessi. toPRAY è un corridoio lungo e stretto per arrivare all'animo umano. Attraversiamo i simboli che nella storia abbiamo attribuito a quello che non riusciamo a vedere, per dare alla vita un valore diverso. Si dice che "possediamo un'anima".  Ma cosa vuol dire "pregare"? Forse l'agire stesso è un atto di culto: l'uomo contemporaneo agisce sul corpo "traendone" un culto. E se quello che abbiamo di più sacro è l'immaginazione attraverso cui riusciremo ad identificare l'anima nel corso della vita?
For everyone there is a moment in life when we learn to search within ourselves. toPRAY is a long and narrow passage to the human soul. We move through the symbols we have ascribed to what we cannot see, to give life a different value. They say that 'we have a soul'. But what does it mean to 'pray'? Perhaps our very doing is an act of worship: the contemporary man acts on the body to draw a worship. What about if the most sacred thing we possess is our imagination that allows us in the course of our life to discover our soul?
Gli Spettacoli si terranno al Cantiere Oberdan, Piazza San gabriele dell'Addolorata, Spoleto (di fianco uffici Giudice di Pace)
Ingresso: 8 euro intero, 5 euro ridotto
Abbonamento ai tre spettacoli: 20 euro intero, 10 euro ridotto