Giovedì 12 luglio ore 21.30 Sala Chiostro San Nicolò
Venerdì 13 luglio ore 15.00 Sala Chiostro San Nicolò
Sabato 14 luglio ore 21.30 Sala Chiostro San Nicolò
Company  SBB – Stefanie Batten Bland (New York)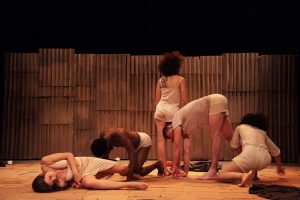 Created Directed Choreographed by Stefanie Batten Bland
Dance Artists: Raphael Cyril KANEY, Jennifer Dayana PAYAN, Latra Ann WILSON, Emeri Liza FETZER, Paul Thomas MORLAND
Stage Manager: Emma K. Rivera
Tour Producer: Petya Hristova, Art Pier
Music: Paul Damian Hogan lll
Environment: Benjamin Heller
Costumes: Lily Prentice
Lighting: Alaric Hahn
Welcome…, il nuovo progetto della Compagnia SBB, una collaborazione tra la coreografa Stefanie Batten Bland, l'artista visivo Benjamin Heller e il compositore Paul Damian Hogan, esamina la nostra volontà di abbracciare e condividere lo spazio con gli altri.
Contrastando l'attuale clima politico in cui i muri sono diventati sinonimo di barriere che separano persone e luoghi, Welcome considera i graffiti delle città come tele comuni che esprimono il passato e il presente delle persone della comunità . Un murales composto da dipinti creati dai bambini e dai loro genitori presso l'Insediamento universitario del Lower East Side di New York, diventa parte integrante della danza di un'ora.
Welcome è uno spettacolo interdisciplinare commissionato da La MaMa Theater di New York ed esamina la volontà di condividere lo spazio con le etnie che emigrano nel proprio paese e i cambiamenti derivanti da ogni nuova inclusione, affrontando gli eventi globali e locali attuali durante questo periodo di identità di frontiera. Concentrato sulla riconciliazione, lo spettacolo sottolinea che tutti sono arrivati ​​qui da un "altrove" in circostanze diverse, ma tutti ora fanno parte di questi Stati Uniti. Esplora la paranoia, il terrore e la competizione che influenzano i cittadini nel proibire l'accesso agli Stati Uniti dai confini fino ai distretti scolastici locali.
Company Stefanie Batten Bland (Company SBB) is a contemporary dance theatre company performing worldwide original works by artistic director and founder Stefanie Batten Bland. Based in New York since 2011, the Company was originally founded in France in 2008 to exhibit thought provocative works investigating the human condition. Its transformative pieces for proscenium or non-traditional spaces have been performed globally, both inside and out of the dance world. Company SBB quickly caught the attention of presenters, fellow artists and audiences with its award winning futuristic environments, extraordinary performers and intellectually ambitious creations which highlight the delicate threads that sew us to one another as people and to our planet. www.companysbb.org
This tour was made possible thanks to the generous support of Zelda Dana.