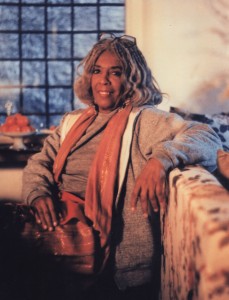 Ellen Stewart (7 novembre 1919 — 13 gennaio 2011) fondatrice ed il direttrice artistica del La MaMa Experimental Theatre Club di New York. Iniziato nell'ottobre 1961, questo teatro continua ancora oggi a ricoprire un importante ruolo nel panorama teatrale internazionale. Dal 1961 ad oggi, sono stati presentati nel teatro de La MaMa più di 1.900 spettacoli. Le numerose compagnie residenti nel teatro hanno presentato i loro spettacoli in quasi tutto il mondo.
Oltre ad aver favorito e stimolato lo sviluppo del teatro contemporaneo negli Stati Uniti, Ellen Stewart ha introdotto in America il lavoro di alcuni degli artisti più influenti al mondo, provenienti da più di settanta paesi diversi. Ellen Stewart ha scritto libretti e testi, composto musiche e curato la regia di numerosi spettacoli che sono stati presentati in America, Uruguai, Argentina, Austria, Italia, Turchia, Filippine, Cameroon, Zaire, Senegal, Nigeria, Brasile, Haiti, Marocco, Israele, Bulgaria e Yugoslavia. Ha inoltre organizzato corsi e insegnato nei suddetti paesi. Ha insegnato nell'Istituto del Dramma in Corea del Sud ed è membro permanente dell'Istituto Internazionale del Teatro di Seoul.
Ellen Stewart ha ricevuto molte lauree ad honorem e premi, fra cui il prestigiouso MacArthur Fellowship e il National Endowment for Arts and Culture. È stata nominata ufficiale dell' "Odre Des Arts Et Letters" in Francia ed ha ricevuto il premio Les Kurbas in Ucraina per essersi distinta nel campo dell'arte e della cultura. Nel gennaio 1993 Ellen Stewart è stata inserita "Broadway Theatre Hall of Fame" , diventando così il primo produttore del teatro Off-Broadway a ricevere questo riconoscimento. Inoltre nel dicembre 1994 Ellen Stewart è stata insignita dall'imperatore del Giappone con il riconoscimento "Order of the Sacred Treasure, Gold Rays with Rosette" e nel 2007 del Premio Imperiale.
Grazie al premio in denaro ricevuto dal MacArthur Fellowship, Ellen Stewart ha acquistato un grande edifice, un vecchio convento a Spoleto in Loc. S. Maria Reggiana e nel 1990 ha fondato il centro La MaMa Umbria International che ha sede nel complesso ristrutturato nel corso degli anni.