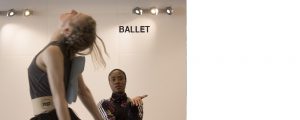 Residenza a La MaMa Umbria International dal 7 al 23 luglio 2019 di danza in parte Trampolino, in quanto la Parson lavorerà con i giovani danzatori del territorio di Spoleto.
Ballet è un duetto per due donne basato sull'immaginario, la traiettoria e la materialità delle tradizioni del ballo; è stato ideato al Centre for Ballet and The Arts / New York University nella primavera del 2018. In questo contesto, Parson era interessata a fare qualcosa che includesse i passi fondamentali del balletto, gli oggetti associati al balletto, la narrativa tradizionale nella danza e l'inizio radicale del balletto non narrativo. Parson era interessata al capolavoro Agon Disegnato da Balanchine come giovane coreografo e alle sue proprietà cinetiche, nonché agli aspetti della danza che vivono al di fuori del linguaggio e dell'analisi. Ha visto il pezzo innumerevoli volte durante la sua vita adulta.. Questa nuova creazione realizzata a Spoleto risponde alle scoperte della metà del secolo nell'astrazione creata da Balanchine con la prospettiva coreografica (soggettiva) di Parson. Ballet interpreta alcune di queste osservazioni compositive, mescolandole con il suo approccio alla danza e con il modo in cui ha "provato" mentre lo guardava, l'insolita tonalità che ha incontrato come spettatore.
Compagine artistica: BIG DANCE Theatre – Annie-B Parson (USA)
BIG DANCE THEATRE (USA) – Fondato nel 1991, il Big Dance Theatre è noto per il suo creativo uso ed ispirato di danza, musica, testo e design visivo. La Compagnia spesso lavora con materiale incongruente e selvaggio, tessendo e intrecciando diversi fili in Performance multidimensionali. Guidata dalla direttrice artistica Annie-B Parson, Big Dance ha approfondito l'opera letteraria di autori come Twain, Tanizaki, Wellman, Euripide e Flaubert, e la danza è usata sia come cornice che come metafora per teatralizzare questi scritti. Per oltre 25 anni, il Big Dance Theatre ha creato oltre 20 opere di danza / teatro, ogni spettacolo è stato creato in mesi di collaborazione con i suoi artisti associati, attori, ballerini, compositori e designer di lunga data e sono sempre in continua evoluzione. Il Big Dance Theatre ha ricevuto i premi "Bessie" di New York Dance and Performance nel 2002 e nel 2010; La compagnia è stata premiata con un OBIE nel 2000 e i membri della società BDT hanno ricevuto altri 5 premi "Bessie" e un premio OBIE per il loro lavoro con Big Dance. Nel 2007 la compagnia ha ricevuto il primo Jacob's Pillow Dance Award. Annie B Parson, Coreografa e Direttrice artistica del Big Dance Theatre di Brooklyn, con cui ha creato più di 20 spettacoli, che vanno dai pezzi di pura danza, ad adattamenti di testi, opere teatrali e letteratura, a opere originali che combinano materiali selvaggi e disparati. I suoi lavori sono stati commissionati da Les Subsistances in Lyon, Il Brooklyn Academy of Music, The National Theater of Paris/Chaillot, The Japan Society, The Walker Art Center, e tanti altri.. Al di fuori della Big Dance, ha creato coreografie per opere, popstar, televisione, film, teatro, balletto e sinfonie. Tra questi tra cui David Lang, David Bowie, David Byrne, Mikhail Baryshnikov, St. Vincent, Laurie Anderson.